Published: Tuesday, March 19, 2019 02:26 PM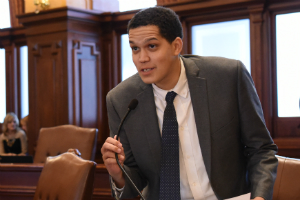 SPRINGFIELD – A resolution sponsored by State Senator Robert Peters (D-Chicago) urges the United States Congress to guarantee automatic citizenship for children adopted by a U.S. citizen.
"I know from first-hand experience that the life of an adopted child is difficult enough without the possibility of being stateless," Peters said. "The protection of the U.S. government should not be denied to children because of things that happened before they were born. Granting them citizenship is the right thing to do."
House Joint Resolution 24 states that both chambers of the Illinois General Assembly regard the granting of citizenship to all qualifying children adopted by a U.S. citizen as a civil right regardless of the date the adoption occurred, and that they condemn the deportation of individuals who were adopted into American homes and therefore have expectations of citizenship. The resolution also urges the U.S. Congress and the President of the United States to enact legislation codifying the tenets of the resolution.
The resolution passed through both chambers of the General Assembly with unanimous bipartisan support, and is therefore officially enacted.
Category: Press Releases