Published: Saturday, June 01, 2019 01:37 AM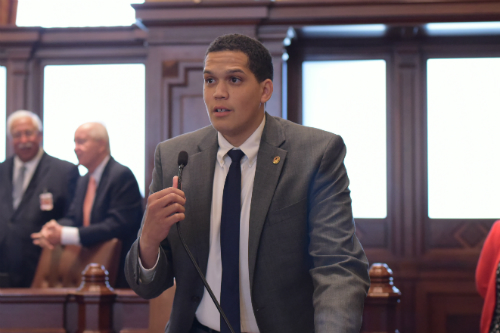 SPRINGFIELD – The Illinois Senate today passed a series of bills establishing a budget for the 2020 fiscal year. State Senator Robert Peters (D-Chicago) voted in favor of these bills, passing a balanced budget during his first session in Springfield.
"This budget is another step on a path to stability, and will provide much-needed services to the people who rely on them the most," Peters said. "The state budget should be a tool to help those in need, and I'm proud to have been a part of ensuring that this year's is."
The 2020 Fiscal Year budget provides funding increases to many services across the state, including the Department of Children and Family Services. It also increases funding for various educational programs, a detail Peters noted as being very important to him.
"I'm particularly pleased to see how much more we're investing in education," Peters said. "The strength of a society can be measured by how well it looks out for future generations, and I think this makes us look pretty strong. We're fulfilling our promise to invest in education."
The budget allocates $375 million for the evidence-based model of educational funding, surpassing the original estimate by $25 million. This includes $50 million in additional property tax revenue. In a separate provision, early childhood education will also receive an additional $50 million.
"From preschool to college, this budget gives working and middle class families a way to pay for the education their children need," Peters said. "Schools in black and brown communities have been struggling for decades, and I'm thrilled that this budget addresses some of that concern."
Peters also called attention to the funding the budget provides for DCFS and DHS programs and employees.
"We'll be investing $100 million to DCFS to allow that department to not only hire and train over 300 new employees, but also to provide wage increases to the folks who do these jobs," Peters said. "They do some of the hardest and most necessary jobs in the state, and I'm happy that this budget provides them with a way to make it easier for them to pay their bills."
The budget also allocates some funds for violence prevention methods.
"It takes more than just an increased police presence to help prevent violence. It also requires financial investment to treat the cause of the violence at its source," Peters said. "I'm glad this budget recognizes this and provides effective means of keeping our communities safe."
The budget must be approved by the House of Representatives before being sent to the governor. With the governor's signature, the budget approved by the Senate today would take effect July 1.
Category: Press Releases