Published: Thursday, March 07, 2019 01:24 PM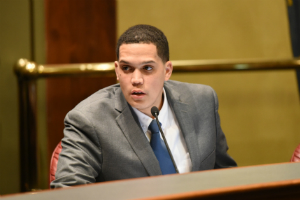 SPRINGFIELD – In an effort to protect the rights of working class people across the state of Illinois, State Senator Robert Peters (D-Chicago) voted favorably on a bill that would ban right-to-work zones throughout Illinois.
"Unions are crucial to safeguarding the well-being of workers and working class people," Peters said. "Any attempt to deny workers the right to unionize or collectively bargain should be prevented."
Senate Bill 1474 creates the Collective Bargaining Freedom Act, which permits employers and labor organizations to negotiate agreements that require union membership as a condition of employment. The legislation would also prohibit local laws or regulations that create "right-to-work zones" or disallow union requirements.
"The term 'right to work' is misleading," Peters said. "The name implies that it is beneficial to workers, but it is actually harmful since it allows employers to prevent the formation of unions that protect the rights and interests of the workers who are a part of them."
Peters was also a chief-co sponsor of the bill, which passed the Senate and now heads to the House of Representatives for consideration.
Category: Press Releases