Published: Friday, March 27, 2020 11:05 AM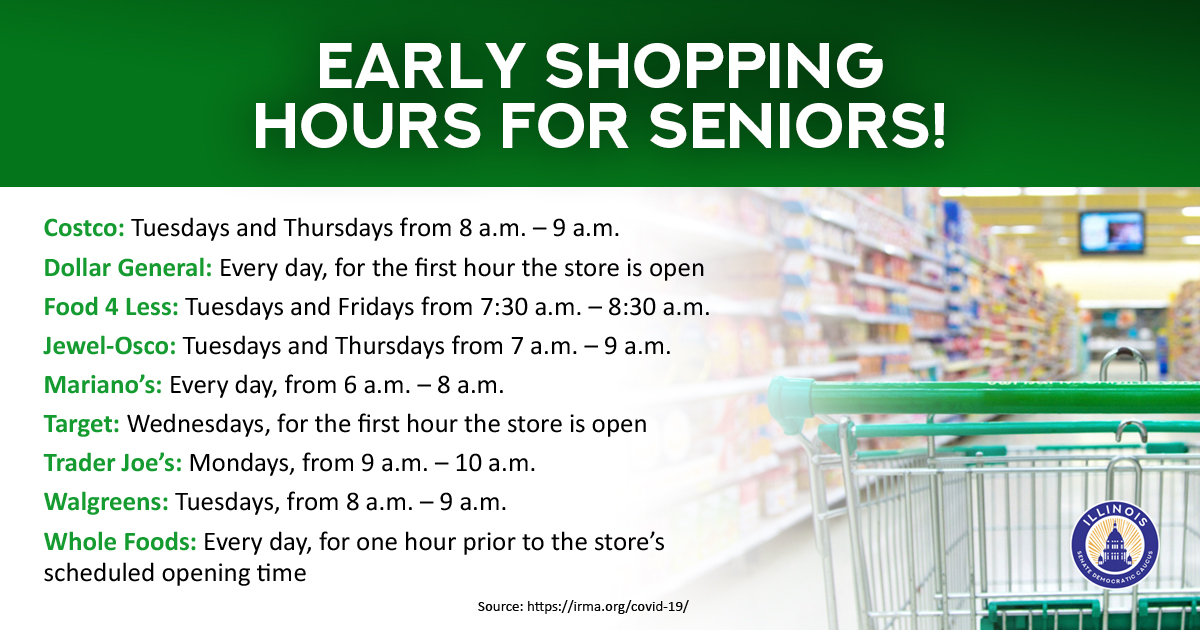 As a result of social distancing guidelines laid out by top health professionals, many area stores have announced special senior-only hours that will give seniors the chance to shop in a less dangerous environment. State Senator Robert Peters (D-Chicago) stressed the importance of providing this opportunity to a potentially vulnerable portion of the population.
"Since seniors are at the greatest risk of not only contracting the coronavirus, but experiencing the worst of its symptoms, it's important to provide them with a situation in which they can shop for the groceries and supplies they need with a lower chance of being exposed to the virus," Peters said.
See below for a list of stores in the 13th District that have announced senior-only hours. Many of these stores also extend these hours to those with compromised immune systems, though this varies, as does the age defined as "senior." For more information or to find a location near you, visit the specific store's website by clicking on its name.
Costco: Tuesdays and Thursdays from 8 a.m. – 9 a.m.
Dollar General: Every day, for the first hour the store is open
Food 4 Less: Tuesdays and Fridays from 7:30 a.m. – 8:30 a.m.
Jewel-Osco: Tuesdays and Thursdays from 7 a.m. – 9 a.m.
Mariano's: Every day, from 6 a.m. – 8 a.m.
Target: Wednesdays, for the first hour the store is open
Trader Joe's: Mondays, from 9 a.m. – 10 a.m.
Walgreens: Tuesdays, from 8 a.m. – 9 a.m.
Whole Foods: Every day, for one hour prior to the store's scheduled opening time
Category: News