Published: Wednesday, January 09, 2019 03:00 PM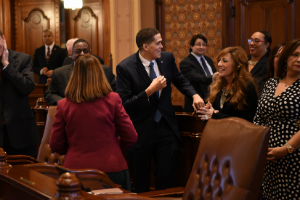 SPRINGFIELD — State Senator Robert Peters (D-Chicago) joined colleagues on Wednesday to be sworn in to the Illinois State Senate, replacing former Senator Kwame Raoul.
Peters is a former community organizer who was born and raised on Chicago's South Side. He overcame immense personal hurdles in his early life, having been born deaf and with a speech impediment, and credits his community for never letting him down.
"I hope my appointment to the Senate shows other young people that it doesn't take bootstraps to succeed – it takes community," Peters said. "As senator, I will give back to those who gave me a chance by focusing on issues important to my district, like a balanced budget, criminal justice reform, clean energy jobs and quality public education."
Peters has also been named secretary for the Illinois Legislative Black Caucus. He will represent the 13th Senate District, which stretches along Lake Michigan from downtown Chicago through the South Side.
For more information on Senator Peters and to contact him, visit his website at www.senatorrobertpeters.com.
Category: Press Releases