Published: Tuesday, January 08, 2019 10:21 AM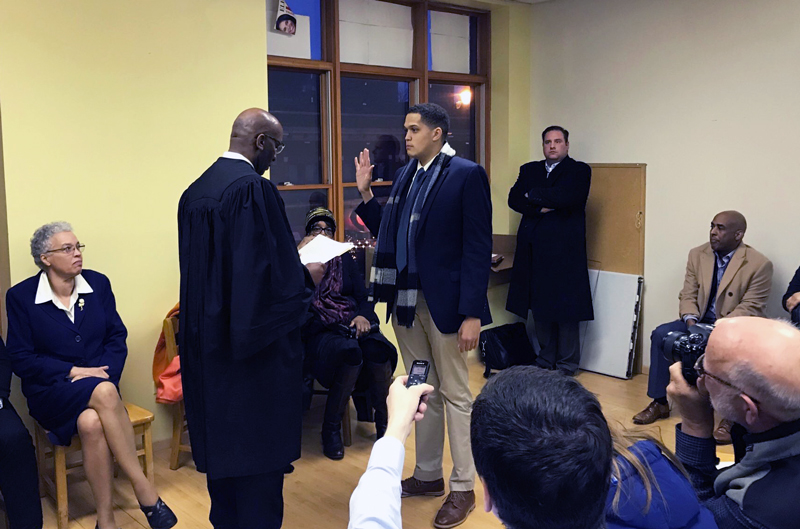 SPRINGFIELD – State Senator Robert Peters (D-Chicago) was sworn in to the Illinois Senate on Sunday, Jan. 6, to fill the seat vacated by Attorney General-elect Kwame Raoul.
Peters is a political activist born and raised on the South Side of Chicago. He was born deaf and with a speech impediment, to a biological mother who was addicted to drugs and alcohol. He credits his experience being raised by his adopted mother, a social worker, and father, a civil rights lawyer, for his passion for public service.
"Growing up wasn't the easiest, but I was very lucky to have an amazing public school and community to help me develop," Peters, 33, said. "The people who brought me into the world helped shape me."
Peters turned his commitment to his community into a career as a political activist, motivated largely by the shooting of Trayvon Martin and subsequent not guilty verdict for his killer, George Zimmerman. He worked as a political consultant for several years before being named political director of Reclaim Chicago, an organization seeking to promote progressive values and candidates.
Three of the top issues Peters wants to focus on in his new role as state senator are criminal justice reform, clean energy jobs and quality public education. He is also committed to passing a balanced budget each year and seeking investment for his community.
Peters said he will bring his experience as an organizer to the office by working to build and maintain relationships, both with his colleagues in the Senate and with community leaders and advocates back home.
"When it comes to my colleagues, I want to make sure I build deep relationships and stay humble," Peters said. "I can talk a lot, but I want to listen and learn."
Category: Press Releases