Published: Tuesday, February 19, 2019 06:33 PM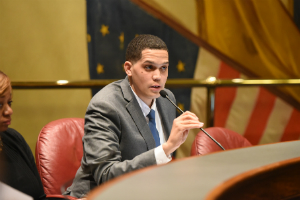 SPRINGFIELD – Recently released inmates people would no longer need to reimburse the Illinois Department of Corrections for the cost of their incarceration under a measure sponsored by State Senator Robert Peters (D-Chicago) which passed out of a Senate committee today.
"It's ridiculous that a provision like this even exists in the first place," Peters said. "These people already have a major burden placed on them by the criminal justice system. It's unconscionable that there's an additional financial burden placed on them once they're finally released, and only makes a return to a life of crime more likely."
Under current law, recently released persons are required to reimburse the DOC for any expenses incurred as a result of their incarceration. The measure, Senate Bill 1158, strikes this requirement from the statute.
The bill passed through the Senate Committee on Criminal law and will now proceed to the full Senate for consideration.
Category: Press Releases